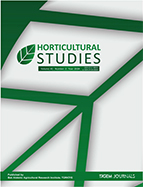 About Journal
Overview
"Horticultural Studies (Abbr.: HortiS)" is the continuation of the Derim, which was started to publish in 1984 as the Citrus Research Institute Publication and turned into refereed journal in 2003. Derim has been published on the Open Journal System with infrastructure provided by TUBITAK / ULAKBIM DergiPark since 2014.
"Horticultural Studies" is a refereed academic journal is published three timesa year (April, August & December) by Bati Akdeniz Agricultural Research Institute (BATEM). The journal is free of charge and has an open access system. The journal publishes original research papers in English language on scientific researches. All papers that are submitted to ''Horticultural Studies'' will be scanned by TR Index, DOAJ, CAB INTERNATIONAL, FAO AGRIS, INDEX COPERNICUS, FSTA, EUROPUB, GOOGLE SCHOLAR, OpenAIRE, DRJI from the first issue.
Aim and Scope
Horticultural Studies covers research on fruits, vegetables, and ornamental plants. Papers are considered for publication on scientific researches in a wide range of horticulture-related fields, such as genetics, plant breeding, post-harvest studies, physiology, crop production technologies, plant protection & nutrition, irrigation, horticultural economy, propagation, and plant biotechnology.